Happy first of the week and last of the month to you!
I hope this week treats you to the kind of rockstar start that you deserve! But if not, let us non-rockstars see if we can't doll your week up a little!
First off, I'm back with my "Songs on Tuesday" Facebook livestream again tomorrow. The Late Edition starts at 18.00 Finnish time but I haven't decided on a theme quite yet although there's several I'm considering (and have been pitched to!) at the moment. Think I'll just go with my gut on the day and hope to pleasantly surprise you with the set I pick!
This week's Fisherman Friday offers up a twist that I hope you'll find entertaining! I'm going through a batch of rude questions and sentiments directed at me and my band during the years and answering them to the best of my ability. Most of these questions were asked of me by kids (not my own) so I guess in essence they're more blunt than intentionally rude, but some also come from critics who may or may not have been having a bad day at the office... I obviously haven't done the "interview" yet, but I'm pretty sure it's going to turn out some shape of super funny!
Also on Friday, I'm gifting another exclusive song to all the members of our e-mail list as I do every first Friday of the month. So if you haven't signed up for our e-mail list, what's the hold-up?!? We don't spam; we just update you twice a month with a couple of things you might find interesting. You can also opt into the whole package and receive a newsletter once a week, but that's totally up to you. And yeah, like I said, a new and exclusive song every month for you to download for free! ... and this December, one song just didn't seem quite enough for you as a Christmas present...
Oh, and harkening back to last Friday, do check out my Fisherman Friday live set of songs both old and new... but mostly new on Youtube! https://www.youtube.com/watch?v=VU6PCetTbc4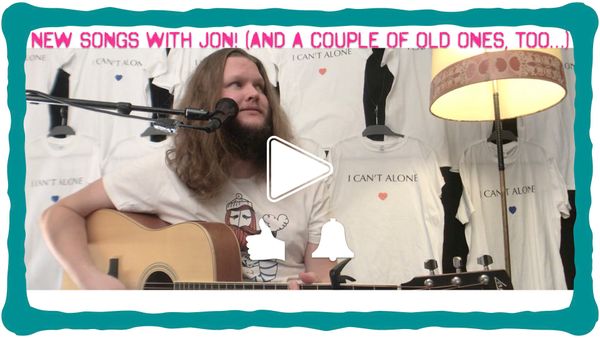 Oh, and in case you were wondering who had the better response to COVID-19, authoritarians or democracies – well, I've got bad news for all you dictator lovers! Oh, and that's good news for everybody else, of course. So here you go: https://www.bloomberg.com/graphics/covid-resilience-ranking/?srnd=premium-asia&sref=B9VwE2e5
TUESDAY
FRIDAY
Peace & Love,
Jon