So the funnest thing about playing shows is meeting new people. No big secret there. It gets especially fun though if you meet parts of your audience on the street days before the show walking home from band rehearsals. I'm sorry, what? – you may ask. So let's start at the beginning – on Monday last week I'm walking home from band rehearsals with my guitar on my back when a young gentleman I've just passed on the sidewalk catches up with me, introduces himself as Quan (dude, I've no idea if I've got the spelling right, but do let me know, will ya!) and asks me if I'm a musician. We get to talking about where he can get his guitar repaired and what kind of music I make – spoiler alert; it's not the most typical genre that a Finnish band will play, and chances are, if you're reading this you have a good understanding that we're probably a couple of genre overhauls away from death metal. Anyway, towards the end of our journey together Quan asks me about future shows of my band and as fate would have it, we're playing in downtown Helsinki that very Saturday. So I write the details he needs down into his phone and sure enough he turns up five days later with a couple of his friends for our show at Bar Base! Funny how life works out sometimes. And all without social media – a true breath of fresh air and actual human interaction – just what the doctor ordered, eh?
But yeah, speaking of death metal – that's probably what the Bar Base clientele were more tuned into expecting from a live band at their favourite establishment. The PA was blaring out Pantera, Avenged Sevenfold, Gojira and the likes during the whole evening which meant that Tuukka, Joel and Karza felt right at home whereas Tomppa and I joked about the insane amount of notes all the drummers were playing – we're both more punk kids than metal heads. So yeah, I thought it was a ballsy move from our pals in Motion in the Ocean to book their record release show there and have us open the night.
And we did try to cater to the audience a bit, which is far easier when you're able to choose from a back catalogue of fifty songs rather than just the eight songs you've been rehearsing in your basement for your first EP/album. The stage in Bar Base is tiny and Joel's keyboard probably occupied about half the available space, but somehow we managed to cram ourselves onto that tiny bit of real estate and kick of proceedings with "Ugly". Karza was sealed off from the rest of the stage behind his drum kit, only able to escape his confines and walk off stage after the gig after dismantling half the drum kit surrounding him. Tomppa I don't believe moved more than 20cm during the whole gig, because he'd have knocked out Joel in front of him instantly. And I felt like a theatre curtain every so often taking one step to my left and revealing Tuukka behind me playing a solo or riff during my brief vocal breaks. Here's a photo to prove my point!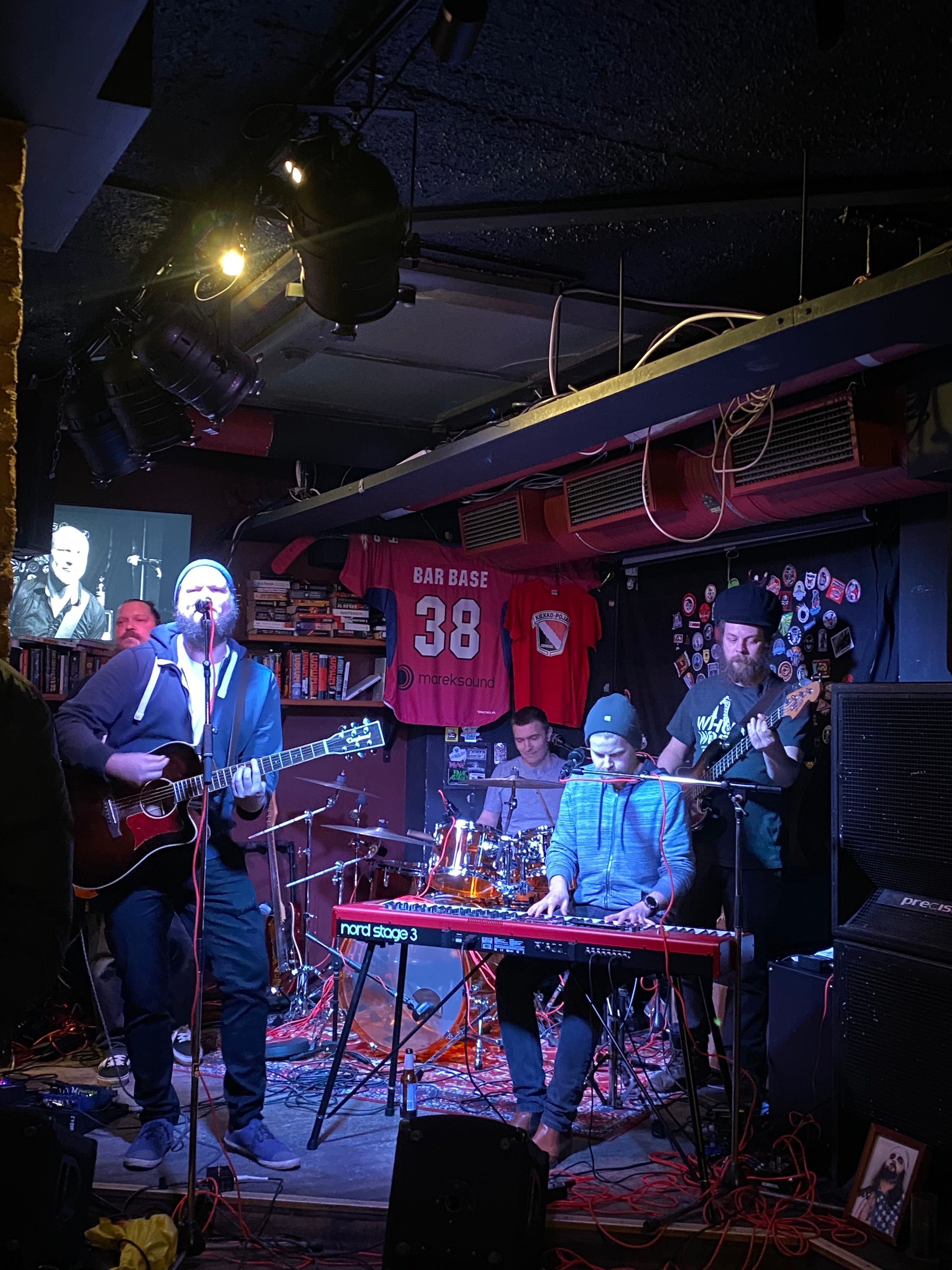 Can you see Tuukka?!? I know; takes a while longer than you'd hoped... But all five us are actually in this picture. And this is literally the only pic from this gig where that is marvelously the case! Okay, but all tomfoolery aside; we had a lot of fun, the crowd seemed to enjoy it as well, we made some sales and got loads of pats on the back – all good! And the house staff were totally welcoming, friendly and fun to hang out with so absolutely no complaints from our side. On the contrary; what a total blast from start to finish!
We played:
1. Ugly
2. Scream into the Void
3. Soar
4. Beggar Princess
5. A Man with no Dance
6. Stranglehold
7. The Courage of a Worm
8. Agents of the Change
9. Trail of Lies
Kami Mate were on after us and they absolutely nailed it! They were great! Really looking forward to seeing these guys again in March at Bar Loose. They've got some tunes, man!
When Motion in the Ocean took the stage for their album release show the room was absolutely packed and everyone was up for it. Even through some technical difficulties and the singer's cold they soldiered through and came to the backstage area pumped after their gig where I'd retreated to with Tuukka, Tomppa and Jukka, a long time friend of ours, to rest our ears. Their gig was blaring over the backstage area PA loud as hell as well and at some point something within the in-house speaker system gave in and the music started sounding more like an Edith Piaf record on a gramophone. Maybe all the earlier double bass metal had finally taken its toll on the audio system towards the end of the night.
We're already hugely looking forward to the biggest show yet with these two bands in March at Bar Loose. Hope to see as many of you there as humanly possible. It'll be an important night for us! You can find all further info on the gig on our Shows page.
Take care all yous and happy Independence Day to our beloved home country!
– Jon